McLaren Vale – Full Day Private Tour
Want to go behind the scenes and explore the McLaren Vale wine region?
Led by our expert local guide and travelling in a private luxury vehicle, let us help you discover scenic McLaren Vale. Sample wines from some of the regions' most iconic family-owned producers, Primo Estate and Shottesbrooke Winery.
Lunch is at local regional restaurant featuring local produce. Return transfers to/from Adelaide Airport or city are included.
Enquire About This Day Tour
Only 45 minutes south of Adelaide, the McLaren Vale wine region sits on the Fleurieu Peninsula, known for its vineyards and olive groves nestled between the cooling breezes from the surrounding sea and hills. Today, you'll explore this region beginning with your private local guide picking you up at your accommodation. From there, you'll start your day with a visit to Mount Lofty Summit, a reputable lookout boasting panoramic views across all of Adelaide.
After admiring the view, you'll indulge in the picturesque scenery of the Adelaide Hills as your driver takes you to your first tasting experience. The birthplace of wine in South Australia, McLaren Vale's vines were planted in 1838 and the region now presents over 73 premium cellar doors to explore.
Premium Tasting Destinations
With an emphasis on the internationally recognised 'trilogy' of fine Australian reds, including Shiraz, Cabernet Sauvignon, and Grenache, you'll enjoy a range of premium tasting destinations over the course of the day, including but not limited to d'Arenberg, Bekkers, and more, while enjoying the scenery of rolling hills, sprawling vineyards, and charming country roads lined with rustic stone cottages.
Enjoy a stop at Shottesbrooke Wines, an award-winning winery creating exciting, high-quality red and white wines. Here, you'll enjoy a tour through their winery accompanied by an expert host, and enjoy a private tasting of their exceptional wines straight from the barrel.
No premium wine tour would be complete without a lunch stop to match. With a variety of quality restaurants in the region, each with different aesthetics but all boasting an emphasis on local seasonal produce, McLaren Vale's range of premium dining experiences will certainly impress and satisfy. Enjoy commanding views of coastline, vineyards or countryside, while enjoying some of the finest à la carte menus in South Australia, before continuing on your epicurean journey.
JOSEPH Experience at Primo Estate
Entice your tastebuds with the JOSEPH Experience at Primo Estate, a family-run winery celebrating their Italian heritage. Indulge in a VIP sit-down tasting flight of Primo Estate's premium wines, accompanied by their homemade Extra Virgin Olive Oil, Italian Grana Padano cheese and locally-baked crusty bread.
Time permitting, you may either round off your day with customised stops at other premium tasting locations to enjoy more of the region's championed varietals. To finish, be sure to bask in the surrounds of this scenic region and admire the 30 kilometre stretch of breath-taking coastline to the west and rolling green hills to the east before beginning the journey back to your accommodation.
Premium Tour
6 guests = $490 per person
5 guests = $530 per person
4 guests = $590 per person
3 guests = $700 per person
2 guests = $900 per person
1 guest = Price on request
Iconic Tour
6 guests = $540 per person
5 guests = $590 per person
4 guests = $670 per person
3 guests = $800 per person
2 guests = $1,065 per person
1 guest = Price on request
Prices are valid for travel until 31 March 2022 and subject to availability at the time of booking request
Your Guide's Special Tips
"For the Art enthusiasts you might enjoy the option to immerse yourself in the sensory feast of d'Arenberg Winery and The Cube. Renowned for its unique structure, The Cube offers various experiences such as Tasting rooms, the Blending Bench and art exhibitions. Chat with us, if you would like to include this on your McLaren Vale Private Day Tour."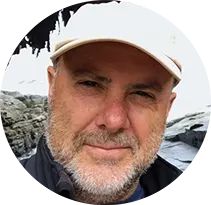 Andrew Walters – Lead Guide
"It was wonderful to be in the friendly hands of Andrew who created a seamless relaxing day."