Adelaide – Full Day Private Tour
Want to discover the best of Adelaide in just one day?
Travelling by private luxury vehicle and escorted by our expert guide, unearth urban Adelaide's food, wine, art, and culture! This exclusively designed tour explores the Adelaide Central Market, Jam Factory (featuring local artisans), the SA Museum and Penfolds winery, including a tasting of the world-renowned 'Grange' wine*.
Enquire About This Day Tour
The capital of South Australia, Adelaide is a tranquil city with a compelling blend of historic and cultural exploration, internationally-recognised food and wine, and outstanding scenery surrounded by lush parklands. Its many offerings are accessible all year around due to the region's pleasant climate. Your day exploring this region will begin with a meet and greet with your local private guide before heading to the Adelaide Central Markets, a long-standing institution that has operated for over 150 years and highlights some of South Australia's best produce.
With freshly baked pastries, customised coffee bean blends, and authentic international cuisines all available, you will enjoy a satisfying tour while sampling a range of produce. Learn about the history of the markets from the vendors themselves, who have often been involved in the market for generations.
You'll head onwards to the next Adelaide institution—the not-for-profit artisanal studio Jam Factory. Showcasing some of Australia's best emerging creative talent, this creative space highlights some of Australia's finest craftsmanship across a range of mediums including glass, ceramic, and leather. Take a tour through the factory, and peruse their gallery to potentially purchase lovingly-crafted artwork.
From here, you'll make your way to the North Terrace Cultural Precinct to the Museum of South Australia for a private guided tour. This museum houses an enormous range of Australasian artefacts and artwork illustrating the culture and geodiversity of many different Aboriginal Australian and Torres Strait Islander people, including those of the local Kaurna people of the Adelaide Hills. You'll also discover other exhibitions on natural history, science, and more.
Penfolds Winery's Magill Estate Kitchen
After discovering these Adelaide institutions, it's a perfect time for a lunch stop. Sit back and relax on a brief 15-minute drive to the globally-recognised Penfolds Magill Estate Cellar Door. You'll enjoy a leisurely yet quality lunch experience while overlooking rows and rows of vines and enjoying a range of their outstanding wines. Once your hunger is satisfied, you'll enjoy a private tour across the estate, absorbing the breathtaking views over their vineyard and the city.
Time permitting, you may wish to take in a view of Adelaide from a popular local vantage point before returning to your accommodation.
Premium Tour
6 guests = $490 per person
5 guests = $530 per person
4 guests = $590 per person
3 guests = $700 per person
2 guests = $900 per person
1 guest = Price on request
Iconic Tour
6 guests = $900 per person
5 guests = $960 per person
4 guests = $1,050 per person
3 guests = $1,200 per person
2 guests = $1,500 per person
1 guest = Price on request
Prices are valid for travel until 31 March 2022 and subject to availability at the time of booking request
Your Guide's Special Tips
"The iconic tour has been designed to showcase some of Adelaide's iconic must-see destinations: Adelaide's Central Market (fresh produce market), Jam Factory (featuring local artisans), SA Museum (specifically the collection of Australian Aboriginal materials), and Penfold's Winery famous for its Grange wine. However, if you have any specific interests, that you would like to learn more about, let us know and we will create a tour just for you."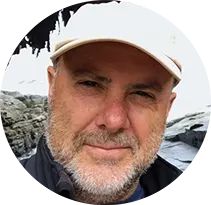 Andrew Walters – Lead Guide