Barossa – From Paddock to Plate at Hutton Vale
Want to discover the Barossa's best Paddock to Plate experience?
Travelling by private luxury vehicle and escorted by our expert guide, join our Hutton Vale farm tour. Meet the owners and seventh-generation farmers, the Angas family, creators of fine local Barossa produce. This gastronomic experience is a must for food and wine enthusiasts!
Enquire About This Day Tour
Seven generations of the Angas family have run Hutton Vale Farm since 1843. Today, repurposed heritage buildings and sprawling vineyards form the oldest mixed family farm in the Barossa.
Today, you'll explore this remarkable property and enjoy a casual yet intimate lunch with sixth-generation custodians of the land, John and Jan Angas. Showcasing food that reflects the culture of the Barossa with home-grown produce to form an authentic 'paddock to plate' experience, this dining experience will be one to remember. Your day begins with your private local guide picking you up from your accommodation to head north to the Barossa Valley, enjoying inspiring scenery of vineyards and gumtrees.
Upon arriving at the farm, you'll begreeted and led around the property by John Angas. Discover the rhythm of country life first-hand, and follow the journey of production across Hutton Vale's wide range of produce, including wool, free-range lamb, duck, chicken, pork, artisan food products such as pickles and preserves, and award-winning wines including Riesling, Shiraz, Cabernet and Grenache from some of the Barossa's oldest vines. Uncover the rich history of this iconic South Australian property, which remains part of the original estate created in 1843during the early colonial period of the state.
From there, you'll continue enjoying warm country hospitality as you sit down for your farmhouse lunch hosted by Jan Angas. A dedicated and fabulous cook with extensive knowledge of the regional food and flavours, Jan rightfully specialises in the robust flavours of the Barossa, both from produce grown on her own property, and produce sourced from local artisan makers. Take a seat at their table and enjoy authentic Barossa generosity with a rich, two-course meal with accompanying beverages from their own vineyard in the Hutton Vale private garden.
Over this lunch experience, you'll share relaxed and real stories, and delve into rich discussion of the region and its history to develop a deeper appreciation for this beautiful space.
Once satiated after sampling a delicious range of Barossa Valley produce and the day winds down, you'll be delivered back to your accommodation by your local private guide.
6 guests = $820.00 per person
5 guests = $866.00 per person
4 guests = $935.00 per person
3 guests = $1050.00 per person
2 guests = $1280.00 per person
1 guest = $2560.00 per person
Prices are valid for travel until 31 March 2022 and subject to availability at the time of booking request
For clients wishing to gain an even deeper wine experience today a private tour of Henschke flagship vineyards is able to be included followed by a tasting of the wines these vineyards produce in an intimate winery setting. Henschke is recognized for its rich heritage, innovative spirit and commitment to handcrafting exceptional wines for more than 145 years. The Henschke family grape growing and winemaking tradition spans six generations. If you would like the Henschke experience included please advise your Travel Designer and they will provide a cost accordingly.
Your Guide's Special Tips
"This is a true paddock to plate gastronomic explosion for food and wine lovers! An exclusive opportunity only available when you stay at Hutton Vale's JHA accommodation. Hosted by the Angas family, seventh generation farmers, discover a local's perspective about what makes the Barossa unique. Learn about how the farm operates, what it produces, and the chance to sample Hutton Vale's fine food and wine."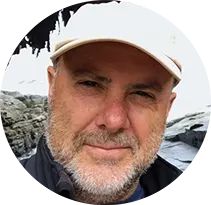 Andrew Walters – Lead Guide